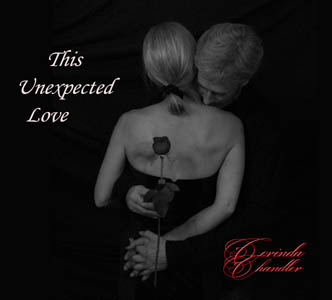 "This Unexpected Love" Is Corinda Chandler's first new album release since her debut album "for The Love Of It" Over the last several months Corinda has been collaborating with Michael Dodds to bring you this new album. For all those that believe that anything is possible ……


Nominated for YYC Music Award
My recording of The Past The Present and The Future is nomination #13. This song is recorded simply, with a vocal and acoustic guitar.

Vote for People's Choice
Showcase at Café Koi Calgary
On January 2, 2016 Corinda will be performing a special showcase with Michael Dodds at Café Koi Calgary.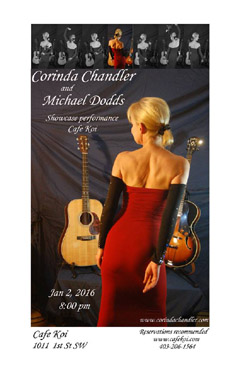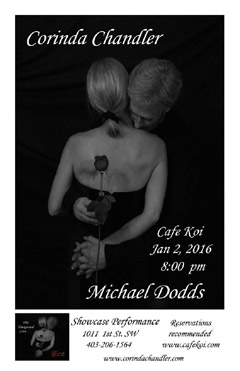 Corinda's Debut Album: For the Love of It
Corinda Chandler's debut album " For the Love of It" (recorded as "Cori Chandler") was a collaboration between her and country music legend Ray Griff, and was recorded at Nashville County Q studio and Night Deposit Studio in Calgary. Her first singles "If I Reached You" and "Finders Keepers" were in Canada's Top 1OO CanCountry chart for several months. Through ECMA the album was released to Europe and Australian radio, and 'If I Reached You' reach #5 on the ECMA Top 100 Country chart, and five singles charted in the Top 20. This led to Corinda winning an award as Top Female Vocalist by AICGMA.


We have a Mobile Version!
View our website on your smartphone to the mobile version automatically. Visit and share our website on the road, in the clubs...